Samantha Starfish and Scat Goddess – Shitty Strap On Sex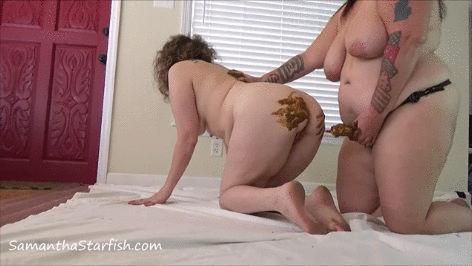 Release Date : Feb, 2017
Cast : Scat Goddess and Samantha Starfish
Genres : Poop Videos, Scat, Lesbian Scat, Toilet Slavery, Scat Domination, Strap-on Sex, FULL HD 1080p
After Scat Goddess pooped in my mouth and I pooped in her mouth, we both got very turned on! Our pussies started dripping and our asses were hungry for cock! We both ran and got our strap ons so we could fuck each other's holes until we came so hard!
First, I put my strap on on and shove it in ScatGoddess' sexy pussy! I smear poop on her lovely ass and tell her how I can fucking her holes with my big, shit covered cock! It feel so good to fill her up! I can tell she's really enjoying my cock fucking her! I take my cock out of her pussy and push it into her asshole! Mmm! I'm fucking my shitty lover with my shit smeared strap on cock! When I pull my dick out of her ass I make her kiss it! I rub my cock all over her face and smear it with poop!
Now it's time for her to fuck me with her strap on! I watch her lubing up her cock with a big pile of poop! Moist shit makes such a great lube! Her cock is going to slide right into my holes! She fucks my pussy first! It feels amazing but I am an anal slut! I need her cock in my asshole! There is a burst of pain as she stretches my shithole open with her cock! She's stretching my asshole with her dick! It feels so good! I start moaning in pleasure! I'm going to cum so fast! I'm being buttfucked by a sexy woman's shit smeared strap on! It's not long before I start cumming so hard! After I cum she rubs her shitty cock all over my face! I'm covered in poop and I love it!
We both got fucked so good!